I'm going to take a stab and say it was 1990. Kindergarten at Millville Elementary was going well. Colors, sights, sounds, words, letters and new friends flooded my infantile neural pathways and exploded into a mash of incoherent repetition of blerbs as I reported on my class to my mother. One lesson was memorable. We were learning about March.
It comes in like a lion with angry gray paper rain clouds, and out like a lamb with Elmer's-glued-on cotton ball sheep and yellow sunshine.
March 2 saw record-breaking low temperatures in Omaha that had us all bundled up, wishing it all to be over. Temperatures have been in a steady climb, and Sunday March 9 is looking to be in the 60's.
Not THAT kind of 60's. Thank heavens. Scare the fish away.
The wife and I are working hard to get the money in order, as always. (I've been working two jobs since October 2012. She's now a crisis counselor for Boys Town.) Good thing is, we've budgeted slush money for both of us! My $10/month is piling up for a fishing license. April 1 is go-time, baby, as long as I can quit buying Swedish Fish for a nickle and betting people a dollar that I can lick my elbow.
Given the money tightness, other challenges presented themselves. Last year, Fishing my 6wt, I broke the line. That was easy to fix. I saved up some pennies and bought some carp line on sale at Bass Pro. After that, I broke my 6wt POLE. Then, my 5wt line broke. Game over 2013. That one never got fixed. I didn't know what I was going to do for fly line.
Huge plug for LL Bean here. Their
Lifetime Satisfaction Guarantee
is off-the-charts awesome. My wading boots had popped an eyelet and a 4 year old sweater my mother-in-law had bought me had popped a seam. I sent both in. They let me know they didn't have either product in stock anymore, so they just sent us a check. With that money, I was able to buy an upgraded pair of boots (without eyelets that can break) and, queue the music: 5w fly line!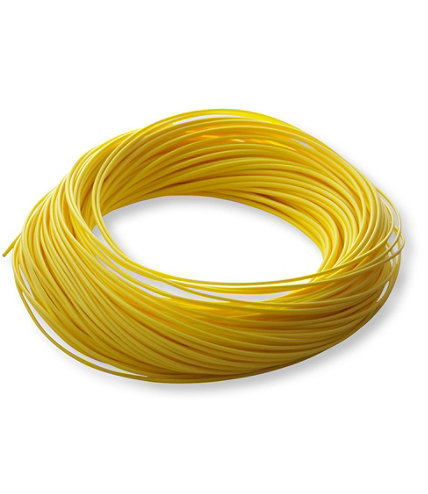 6wt pole is still broken, but now I've got a viable option for both local fishing and Minnesota Pike in the 5w. You better believe I'm going to be taking it easy, though, fishing up there with a 5w for old Toothy McGovern Bazillion. Hinted to the wife I wouldn't mind a
Streamlight II 6W
for the birfday, but we'll see what happens.
Tight lines everyone! Good to see pictures of people hitting the water!